Posted by Simon Harrison on Monday, July 7, 2014
Under: Belts
The Lincoln handmade Leather Belt appeals to the Equestrian market due to its use of a solid brass horseshoe buckle from Abbey England, but it need not stop there! The Lincoln Belt is at home with any casual style and is well suited to jeans as it has a maximum belt width of 1 ½ inches. Not only that but the same horseshoe buckle can drop down to ½ inch or 12mm for a skinny belt if required.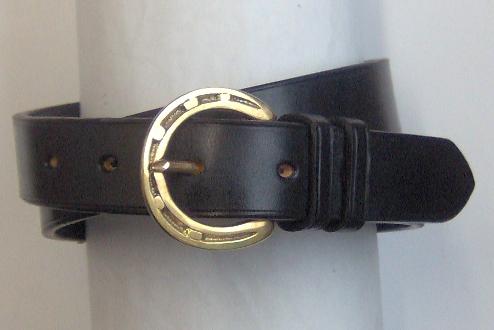 Leather
As always my Lincoln Leather Handmade Belt uses top quality English bridle Leather that is around 3.5mm thick. Bridle leather is very strong and long-lasting and unlike some of the cheaper belts that you may find, will quite easily last you a lifetime if looked after. The edges are nicely rounded and polished to give a smooth finish that will not catch on your clothes. A crease cleanly applied to the edge gives the Lincoln Leather Belt an attractive finish.
Buckle
The Horseshoe Buckle is available in solid brass and nickel. Widths include;
½ inch wide leather belt

5/8 inch wide leather belt

¾ inch wide leather belt

7/8 inch wide leather belt

1 inch wide leather belt

1 1/8 inch wide leather belt

1 ¼ inch wide leather belt

1 ½ inch wide leather belt
Loops
I hand stitch two loops to the Lincoln Leather Belt to keep the point under control. To keep the aesthetics of the belt a small piece of leather is stitched between the loops. This makes for a neater finish and prevents the leather from being pulled in on itself.
The two loops are blocked and squared off ensuring that the end of the belt can pass smoothly through them, but not too loose to look scruffy. As like the leather belt itself the two loops are creased along their edges for an eye pleasing look.
Holes
With most of my belts I will punch 5 oval holes for you to buckle your handmade leather belt. The size of belt that you order will be to the middle hole, so if you have measured correctly, the belt should buckle to the middle hole leaving two holes visible. These holes are spaced the width of the belt apart. This keeps the proportions of the belt no matter what width of leather belt that you order.
I punch oval holes as this allows the buckled leather to sit flatter through the buckle, keeping a smoother profile and maintain the belts aesthetics.
Stitching
The buckle is attached to the leather, by hand; the crew hole is punched, by hand; the leather is turned, by hand; the stitch marking is done, by hand; the stitching is completed, by hand; the belt is finished, by hand. I think you get the drift!
This belt, like my others is completely made by hand, in the United Kingdom, using traditional saddlery techniques.
So what are you waiting for? Order your Lincoln Handmade Leather Belt today!
Si
In : Belts
Tags:
handmade "made to order" "made in the uk" "made to measure" "mens style" menswear "ladies style" equestrian
comments powered by

Disqus